client looking for a summer home
BUYER
We wanted a second home in Bellingham and Marla listened carefully to what we were looking for and showed us, and sent us listings of, properties that met our criteria exactly, not just random properties that "might" be right. Marla went far beyond just showing properties, she proactively searched and reached out to property owners that might consider selling to us. It's refreshing to work with an agent who truly wants to find the home we want!
- Sandra Phillips (Southern California)
First Time Home Buyer
Marla is an amazing realtor-- especially for a first time home buyer. She walked us through the process and always gave honest and realistic advice.We faced a multiple-offer situation, which can be extremely stressful. Marla stepped-up and worked hard to ensure that our offer came in strong and even saved us money. Because of her hard work, we were able to purchase our dream home.

Bryan Seely
Seattle, WA
Bellingham buyers
"Marla has supported our real estate needs for many years now. Whether it is tirelessly searching for just the right house for us or having smart ideas about updating and staging our house to sell at its highest potential, Marla is always there for us." Mark and Lynne MacDonald
Belllingham First Time Buyer
"I'm extremely grateful to have found Marla to be my real estate agent. She truly made it possible to find the right place with my budget requirements. My interactions with her were always pleasant since Marla is a naturally kind and friendly person. I was pleased with how smoothly my first home buying process went as she communicated efficiently keeping me will informed on any updates, so I could close quickly.
I really believe that Marla made it possible for me to find the perfect place for me in Bellingham, and I will recommend her to any friends looking to buy a house!
Grace Morquecho
Home Sellers and Buyers
"Needless to say, also Marla also did a terrific job in helping us sell our current home. In the end, we received a full-price offer, and the timing was perfect. The house we are selling will close at exactly the time our new home will be ready for us to move in. The whole process from start to finish has been speedy, as painless as one could hope for, and much better than any other time I have bought or sold a home. I recommend Marla Finkelstein wholeheartedly. She is a realtor you can trust and know she is always trying her very best.
for you." Sara Geballe and Steve James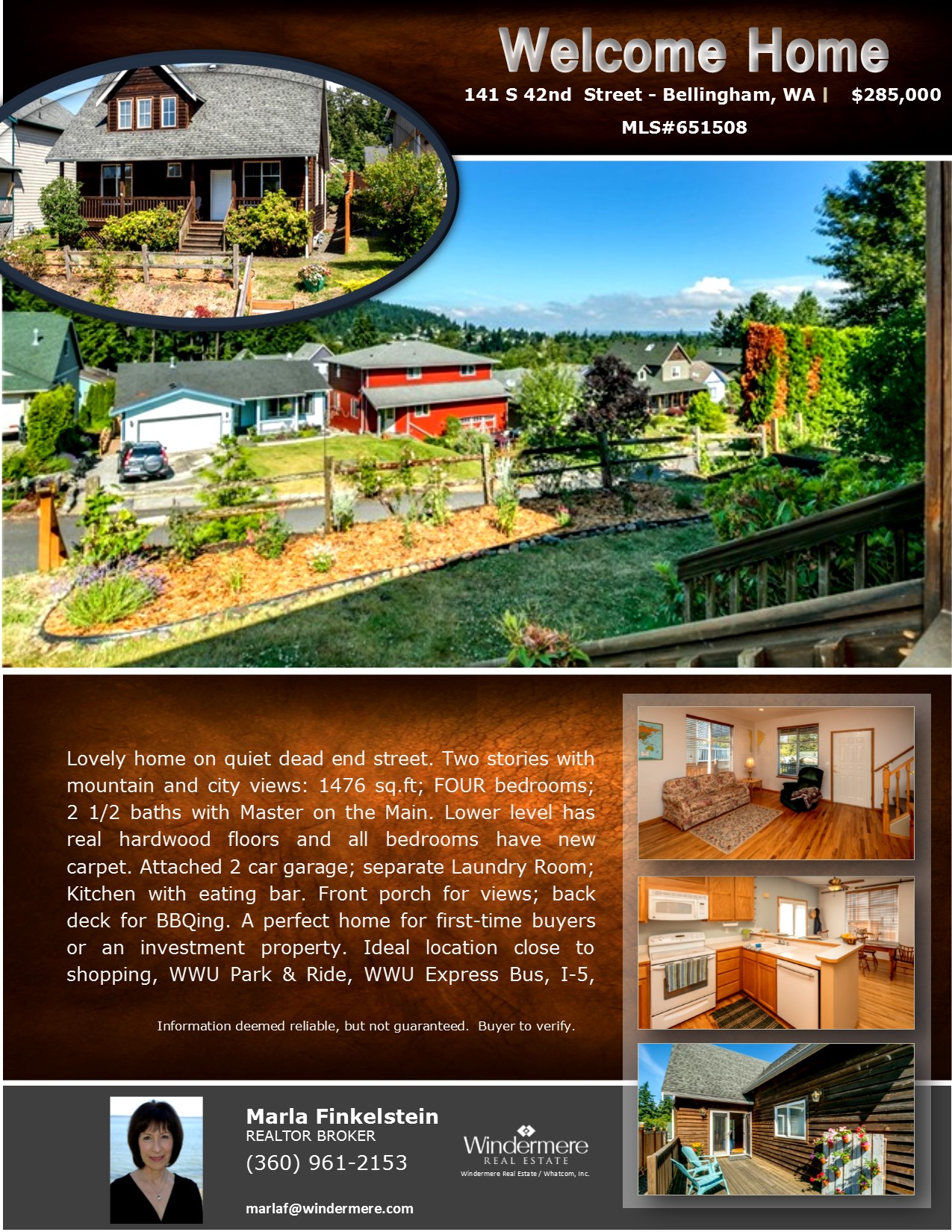 Out of Town Sellers
Marla Finkelstein did a fabulous job selling our Bellingham house for us. There is always a lot to attend to prior to putting a property on the market, and since we live out of the area, Marla stepped up to take care of them beautifully. She assessed the property accurately, priced it appropriately, and took care of the myriad details (repairs, staging, landscape needs, etc) in an organized and very timely fashion. Everything proceeded smoothly and the sale went through without a hitch. We can recommend her services enthusiastically.
Mary Lynne and Dan Bainbridge
Los Gatos, CA
Relocating from California
Marla was our agent in March '14 when we were planning our relocation from Los Angeles to Seattle. Not knowing much about the Seattle area we decided to rent for a year so we could get a feel for the city and surrounding suburbs before we made the commitment to buy. As we had a young toddler and another baby on the way we wanted a family friendly community close to parks, etc, but we hadn't a clue where to start looking. Marla suggested the Seward Park neighborhood and gave us several listings to choose from. We quickly fell in love with a mid century modern home with a great view of Lake Washington and a spacious backyard. We applied for the lease but unfortunately our combined credit scores had taken a hit during the downturn in the economy and it began to seem unlikely that we would be accepted for this prime rental opportunity. Marla fought for us knowing the home would be a perfect fit for our growing family and she helped persuade the agency representative that despite our credit issues we would be the best tenants for the lease. Long story short, we got the property and now six months later we couldn't be happier in Seward Park and will probably buy here once our lease is up. Thank you Marla.

-The Haines Family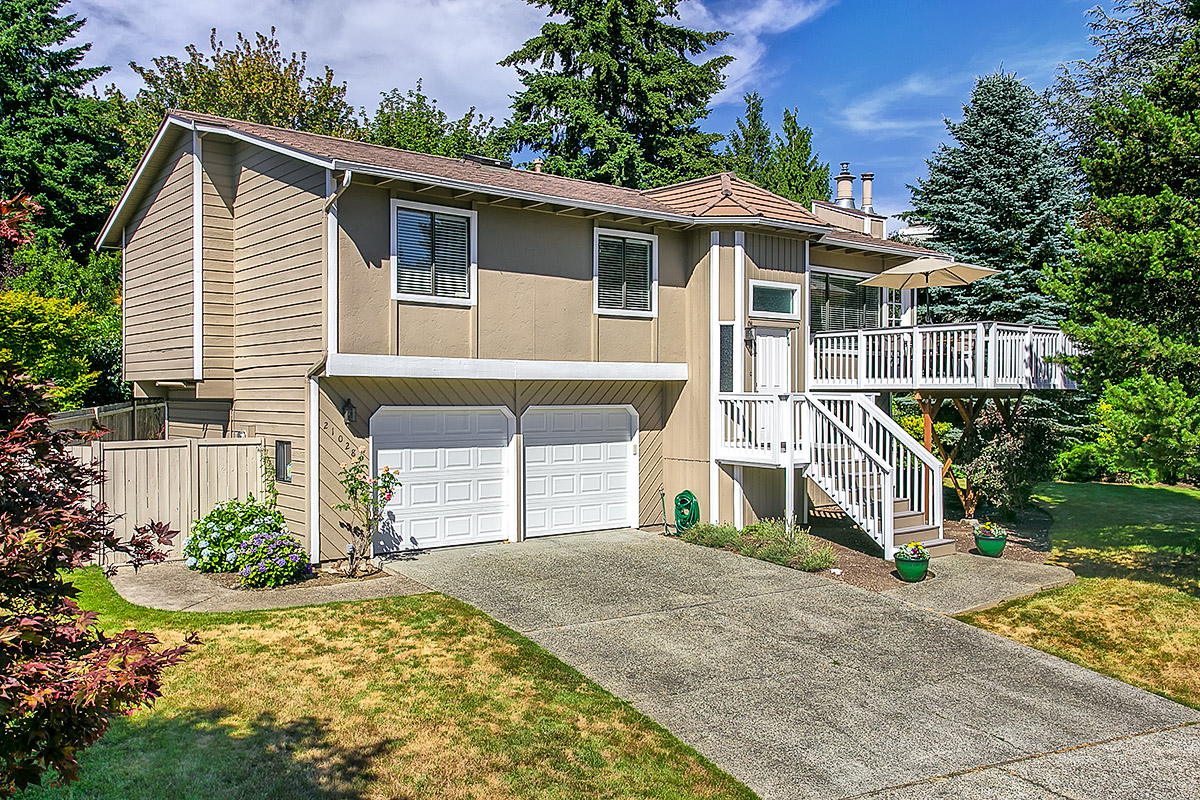 Sellers and Buyers
My wife and I were extremely fortunate to have Marla as our agent for selling our house in Sammamish, WA and for buying a new one in Redmond, WA. Getting into the hyper-competitive Redmond housing market to buy a new home was an intimidating challenge. Marla expertly navigated us through every step, enabling us to find exactly what we were looking for, staying within our budget, and helping us to seal both deals with ease and on time.
With Marla, it was like we were visiting houses with a friend that just happened to really know her stuff about the real estate market. She always had our best interest in mind, including suggesting other options when she thought we could find a better match. Once we found the house we wanted, Marla created a compelling offer which was immediately accepted, successfully beating out several competitors, including a cash offer. I highly recommend Marla and would love to work with her again in the future.
Guy and Carmit Burstein

OUT OF TOWN BUYER
I can't say enough about Marla Finkelstein and the wonderful service I had buying a home this summer. I recommend Marla to anyone I hear that is looking to buy or sell. She was always available to answer questions. When It was time for the inspection, and financing she had great recommendation that helped me have the best experience buying my home at the beach. Marla is currently working my co-workers as well, and I continue to hear wonderful things. I purchased a small home at the beach this summer. Marla met me at closing and made sure I understood everything that was happening. Closing can be overwhelming and it did not feel this way this time at all due to her being there with me.

Thank you again Marla.
Excellent
Marla went above & beyond and stayed on top of things.